Boeing Business Jet 2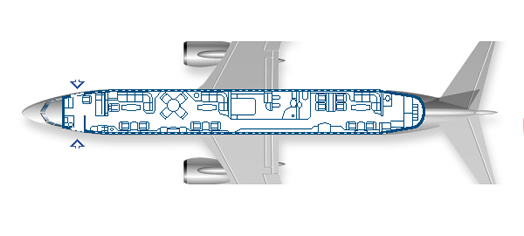 The Boeing Business Jet series are variants of Boeing airliners for the corporate jet market, initially the 737 series airliners. This aircraft usually seats between 25 and 50 passengers within a luxurious configuration. This may include a master bedroom, a washroom with showers, a conference/dining area, and a living area. The Boeing Business Jet is a 50/50 partnership between Boeing Commercial Airplanes and General Electric.

The latest versions of the BBJs include configurations based on the Boeing 777, Boeing 787 and the Boeing 747-8 Intercontinental. Limited details of these models and configurations are available on the BBJ website.

BBJ2 is based on the 737-800.
Plane info
Cruise speed: 850 km/h
Total range: 10 464 km
Engines: CFMI CFM56-7

Aircraft dimensions

Wingspan: 35.8 m
Length: 39.48 m
Height: 12.55 m
Cabin
Length: 32 m
Width: 3.53 m
Height: 2.16 m
Passengers: up to 50
Baggage capacity: 36.2 cubic m