Russian helicopter Mil Mi-171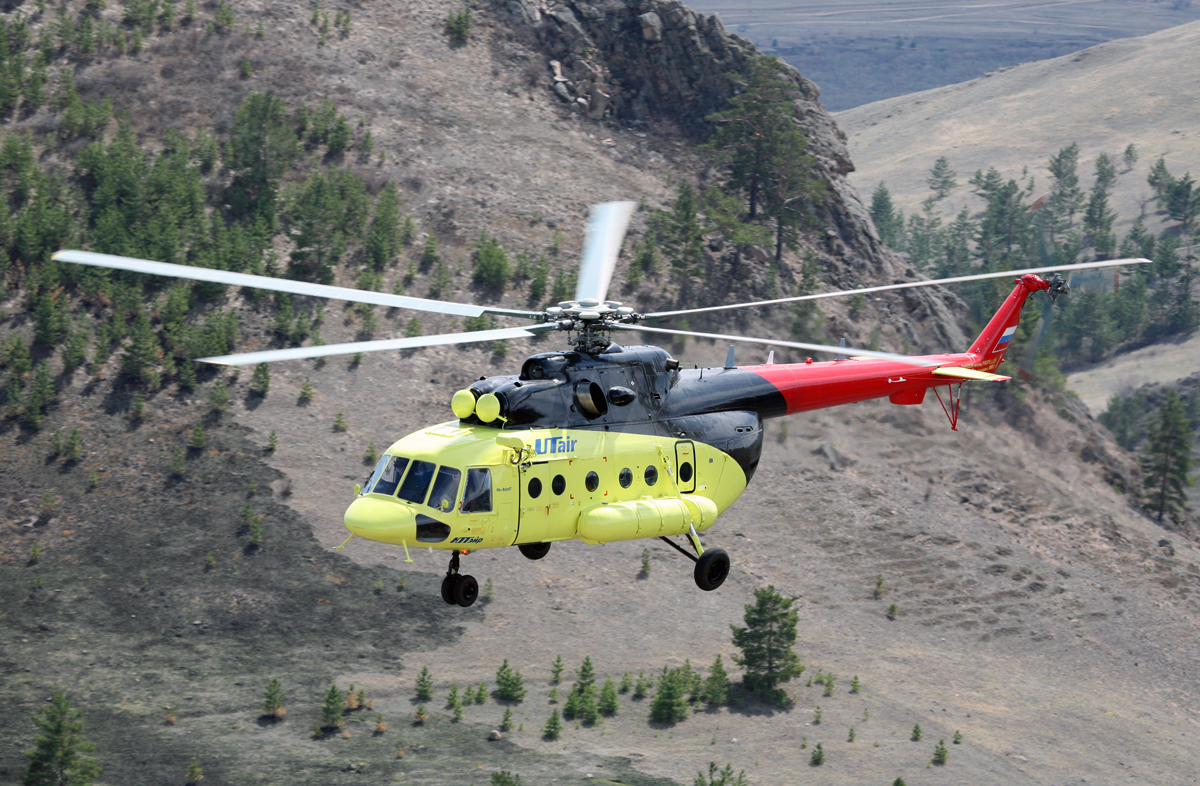 Russian helicopter Mil Mi-171: transport helicopter designed by in the USSR constructors "Mil helicopters", modification of the Mi-8 (Mi-17) - Mi-8AMT (export version is called Mi-171E). The military version of the Mi-8AMTSh (Mi-171SH) entered service in 2009. To identify the model of the Mi-8AMTSh sometimes used informally called the "Terminator."
Difications:
Name of model

Short characteristics, differences

Mi-8AMTSh
the export name
Mi-171Sh

Military transport option of the Mi-8AMT helicopter (Mi-171). Appointment: transportation and expeditious disembarkation to 16 paratroopers, transportation to 12 wounded on a stretcher accompanied by medical staff, transportation of goods to 4000 kg in a cargo cabin, transportation of goods to 4000 kg on an external suspension bracket, highly effective destruction of manpower of the opponent, armored machinery, the surface purposes, constructions, the strengthened weapon emplacements and other mobile and fixed targets, fire support of a landing, maintenance of military columns, CSAR (combat search and rescue operations), prospecting operations, patrol, civil operations (search and rescue operations, fire extinguishing etc.).

Mi - 8AMTSh-V

The upgraded version of the military transport Mi-8AMTSh helicopter with new gas-turbine Klimov engines of BK-2500-03, more powerful auxiliary TA-14 power plant and the updated avionics set.

Mi - 8AMTSh-VA

The military transport helicopter for operation in difficult meteoconditions of the Arctic zone and Far North. It is developed taking into account specifics of application in the conditions of low temperatures, limited visibility when performing flights, including during polar night. Purchase value of Mi-8AMTSh by state orders raised with 200 million rub in 2010 to 250 million rub in 2012.

Mi-171A1

Modification of the Mi-8AMT helicopter FAR-29 meeting standards of the flight validity of rotary-wing devices of the USA. It is operated by the Brazilian airline "Atlas Taxi Aereo". Differs in fuel system without account tank, fuel tanks with intra tank communications, steel cowls, two-chamber KAU-80 boosters, the improved fire-prevention protection are established.

Mi-171A2

Earlier known as Mi-171M. It is developed on the Mi-171A1 base. The car will have the advanced power plant and transmission new the bearing system, the modernized BREO complex, the improved flight and technical and operational characteristics, new system of operation and service. It will differ in the reduced service cost, to transport on an external suspension bracket freights to 5 tons, to carry out flights at an air temperature from −50 °C to 50 °C and flights at a bigger admissible speed of a side wind. Flying range with the main fuel tanks is increased to 850 km. On January 23, 2012 experimental design bureau the Mile started assembly of the first prototype of Mi-171A2. In 2012 it was presented at the HeliExpo-2012 exhibition to the USA. It is expected that the mass production of the upgraded version will begin in the first half of 2014.