Twin Otter Series 400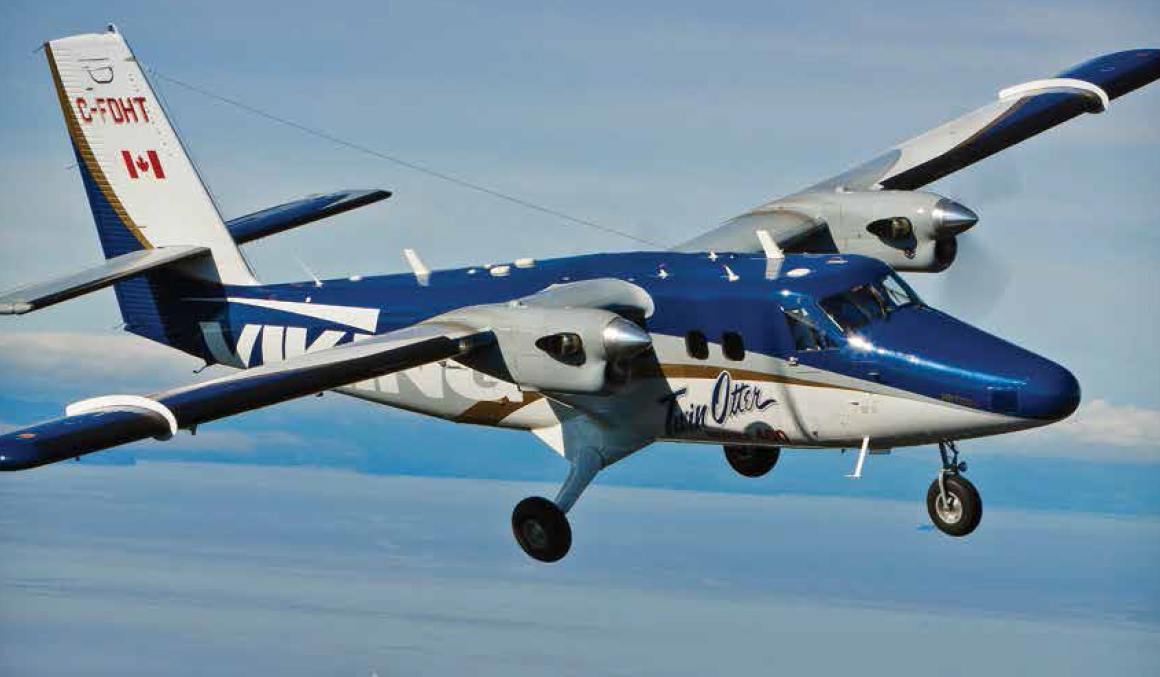 Development of the aircraft began in 1964, with the first flight on May 20, 1965. A twin-engined replacement for the single-engined Otter retaining DHC's renowned STOL qualities, design features included double-slotted trailing edge flaps and ailerons that work in unison with the flaps to boost STOL performance. The availability of the 550 shp (410 kW) Pratt and Whitney Canada PT6A-20 propeller turbine engine in the early 1960s made the concept of a twin more feasible. To bush operators, the improved reliability of turboprop power and the improved performance of a twin-engined configuration made it an immediately popular alternative to the single engined, piston-powered Otter which had been flying since 1951.
The first six aircraft produced were designated Series 1, indicating that they were prototype aircraft. The initial production run consisted of Series 100 aircraft, serial number seven to 115 inclusive. In 1968, Series 200 production began with serial number 116. Changes made at the beginning of Series 200 production included improving the STOL performance, adding a longer nose that was equipped with a larger baggage compartment (except for aircraft fitted with floats) and fitting a larger door to the rear baggage compartment. All Series 1, 100 and 200 aircraft and their variants (110, 210) were fitted with the 550 shaft-horsepower PT6A-20 engines.
In 1969, the Series 300 was introduced, beginning with serial number 231. Both aircraft performance and payload were improved by fitting more powerful PT6A-27 engines. This was a 680 hp (510 kW) engine that was flat-rated to 620 hp (460 kW) for use in the Series 300 Twin Otter. The Series 300 proved to be the most successful variant by far, with 614 Series 300 aircraft and their sub-variants (Series 310 for United Kingdom operators, Series 320 for Australian operators, etc.) sold before production ended in 1988.
New production
After Series 300 production ended, the remaining tooling was purchased by Viking Air of Victoria, British Columbia, who manufacture replacement parts for all of the out-of-production de Havilland Canada aircraft. On February 24, 2006, Viking purchased the type certificates from Bombardier Aerospace for all the out-of-production de Havilland DHC-1 through DHC-7 aircraft. The ownership of the certificates gives Viking the exclusive right to manufacture new aircraft.
On July 17, 2006, at the Farnborough Air Show, Viking Air announced its intention to offer a Series 400 Twin Otter. On April 2, 2007, Viking announced that with 27 orders and options in hand, it was restarting production of the Twin Otter, equipped with a more powerful Pratt & Whitney Canada PT6A-34/35 engine.[3] As of November 2007, 40 firm orders and 10 options had been taken and a new final assembly plant established in Calgary, Alberta.[4][5] Zimex Aviation of Switzerland received the first new production aircraft, serial number 845, in July 2010.
Major changes introduced with the Series 400 include Honeywell Primus Apex fully integrated avionics, deletion of the AC electrical system, deletion of the beta backup system, modernization of the electrical and lighting system, and use of composites for non-load-bearing structures such as doors.
GENERAL INFORMATION:
Max. Takeoff Weight:
12,500 lbs. (5,670 kg.)
Max. Landing Weight:
12,300 lbs. (5,579 kg.)
Number of Crew: 1 or 2
Number of Passengers: 19
Fuel Capacities:
Total – 378 US Gallons (1,432 litres)
Optional Long Range – 89 US Gallons
(336 litres)


CABIN DIMENSIONS:

Cabin Length: 18 ft. 5 in. (5.61 m)

Cabin Height: 4 ft. 11 in. (1.50 m)

Cabin Width: 5 ft. 9 in. (1.75 m)

Cabin Volume (usable):

384 cu. ft. (10.87 cu. m)

Cabin Doors (left side):

50 in. X 56 in. (1.27 m x 1.42 m)

Cabin Door (right side):

30 in. X 45.5 in. (.76 m x 1.16 m)
AIRFRAME:
Configuration and Construction:
All metal, non pressurized, high-wing
monoplane with fixed tricycle (steerable
nose) landing gear.
PROPELLERS:
Two Hartzell HC-B3TN three bladed
reversible pitch, constant speed, fully
feathering propellers.
STANDARD AIRCRAFT
Basic Weight:
7,100 lbs. (3,221 kg.)