Airbus sold 130 aircraft to China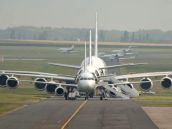 China bought from European aircraft of Airbus 130 aircraft. This is the company reported Thursday.
The Chinese side will receive 30 "family liners' A330 and 100" family aircraft, "A320. In the Airbus noted that the contracts signed in July during a visit to China, German Chancellor Angela Merkel.
Recall, Airbus - one of the largest aircraft manufacturers in the world. It was founded in the 1960s. The company is considered to be Europe-wide, while it is registered in France.
Add it believed that China within the next 20 years will be the world's largest aviation market. According to the forecast aircraft manufacturer Boeing, Chinese airlines need for new airplanes will be 6.33 thousand. Units.
Back to other news