Bombardier Sees Macri Boosting Argentina Business-Jet Market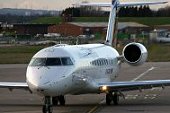 Bombardier Inc. expects that business-jet sales will recover in Argentina now that a new government has taken power, helping to offset weakness in Brazil and Venezuela. "Argentina has reopened for the past seven months, and we've seen tremendous traction,'' said Stephane Leroy, sales head for the region. "We had virtually nothing for three years because customers couldn't buy for regulatory reasons, tax reasons and foreign-exchange reasons." Today, he said, the Montreal-based planemaker receives an inquiry about its jets every week.
Argentinian President Mauricio Macri has promised that South America's second-largest economy will expand next year, after he removed controls on currency exchange and ended a 15-year standoff with creditors. While those steps deepened the country's recession, they won international support after years with little foreign investment. International companies now have pledged to invest more than $20 billion through 2020, according to the Finance Ministry.
Since Macri took over in January, five used business planes were purchased in Argentina, indicating that companies expected the economy to gain steam, Leroy said in an interview Wednesday.
Any sales gains in Argentina won't fully compensate for a slowdown in the broader region. Sales for the total business-aircraft market, which includes helicopters and turboprops, fell 40 percent for 2015 and 2016 in Latin America, mainly affected by Brazil's recession, he said while in Sao Paulo for the Latin America Business Aviation Conference & Exhibition.
Spinning Wheels
Leroy compared the Latin America business-aircraft market to a car. Traction comes from the front wheels, Brazil and Mexico, which account for more than 80 percent of the general aviation fleet. Argentina and Venezuela are the back wheels: "Smaller, but very important markets,'' Leroy said. Of those two, Argentina is starting to take hold.
Brazil is in its longest recession in a country and last week removed President Dilma Rousseff from office. In Venezuela, which also is wracked by economic and political crises, hundreds of thousands of people took to the streets recently calling for the recall of President Nicolas Maduro.
Bombardier accounted for 28 percent of the Latin American business-jet fleet last year, with 545 aircraft in use. It forecasts that 790 business aircraft will be delivered in the region's total market over the next 10 years.
Class B shares dropped 5.8 percent to C$2.015 at 1:57 p.m. in Toronto, the biggest intra-period drop in more than two months, after the company slashed its 2016 forecast for C-Series deliveries, saying delays in shipments of Pratt & Whitney engines will cause the planemaker to burn through cash more quickly than expected.
Back to other news