Lineage 1000 Overview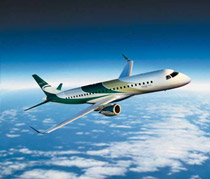 Embraer announced the Legacy 600 in 2000 as its 1st business aircraft derived from the ERJ-135 small commercial airliner and later the larger Lineage 1000 which joins a the Airbus Corporate Jet (ACJ), Boeing Business Jet (BBJ) and very few other models.
For this large model the price is relatively small, as ACJ costs $75 million, the BBJ $57 million without a passenger cabin, the new Embraer model was priced at $46 million (in 2008) with full cabin installed. Smaller than the ACJ and BBJ, slower than the Bombardier Global Express XRS and Gulfstream G550 and shorter-legged than all four, the Lineage is a compromise targeted at the middle of the ultra-luxury market to create a unique niche.
The Lineage has an NBAA-IFR range with 19 passengers of 3,967 nautical miles, 622 square feet of passenger cabin floor with 4,085 cubic feet of volume. At twice the volume of both the Gulfstream (1,669 cubic feet) and the Global (2,022 cubic feet), but only about 75 percent that of the Airbus (5,300 cubic feet) and Boeing (5,390 cubic feet), the Lineage can still carry eight passengers directly from New York to Moscow at speeds up to Mach 0.82. Because of its low noise signature, steep approach angles and shorter wingspan, it will also be able to operate from airports where heavier business jets cannot–places like Aspen, Colo., and New Jersey's Teterboro Airport.
Lineage customers have lots of interior layout options, thanks to a modular design that divides the main cabin into five zones plus the lavatory and walk-in baggage compartment. The modules maximize flexibility and utility, simplify installation and keep down costs, while customer-specified interiors are available at higher costs.
The cabin-management system controls all in-flight information and entertainment components–as well as lighting, window shades, temperature, water and waste–through a master control unit in the galley and the individual passenger control units. The aircraft can be equipped with the latest in-flight entertainment options, including Wi-Fi.
The Lineage's foyer area recalls an office reception room when the main forward entry door is configured with a curved sidewall divan, doubling as a crew rest area, with curved storage drawers and countertops. A forward crew lavatory is between this area and the cockpit. Using light-colored Ultraleather and metallic laminates, it all looks open, airy and inviting. This area can also be fitted with an enclosed crew rest area with oversized single reclining seat for privacy.
The foyer area leads to the large double-sided galley and Zone One of the passenger compartment. The standard galley includes a microwave and high-power convection ovens, ice drawers, six-unit storage and a kitchen tap. An espresso maker, refrigerator, wine chiller, high-power outlets and beverage center are available options. Galley finishes include Lexan, stainless steel and veneers to create a light open feeling. Zone One, the galley and Zone Two can be separated by pocket doors for privacy.
Zone One can be outfitted with a choice of five modules:
a large conference table and four side-facing single seats
three single seats and an entertainment unit
a club-four configuration
right-hand or left-hand conference four groupings with hi-lo table
opposing half-club with folding sidewall table.
Dropping the table and reclining the seats can convert the zone into a lie-flat sleeping area with optional mattresses. The seats can be fitted with full or partial electric function and other options, including slide-down arms and plug-in trays and monitors. A 17-inch or 20-inch monitor is installed in the forward bulkhead of Zone One.
The pocket door and either a mid-cabin lavatory or an entertainment system cabinet and small wardrobe separate Zones One and Two. Another bulkhead monitor can be installed on the left side of the forward cabin divider. Zones Two, Three and Four can be combined to create a large, open master salon with curved sidewall divans and single seats, credenzas with large popout or fixed monitors (up to 42 inches) and an office work area. Or variations of Zone One layouts can be duplicated, but here they also include divans. The same can be done in Zones Three and Four, which can also be combined to create a junior salon.
Zone Five can be configured as a master bedroom suite with a large lavatory that includes a bidet and shower. Adding the shower cuts deep into the main cabin luggage area measuring 360 cubic feet and holds 2,293 pounds. (Combined storage of cabinets plus the belly under the forward cabin and behind the main entry door accessible through an exterior luggage door in the lower fuselage creates a total luggage capacity of 615 cubic feet.) The area can also be outfitted with opposing berthable divans or a single divan and a private sitting area.





theprivatejetcompany.com
Back to other news