In Brazil, certified business jet Embraer Legacy 450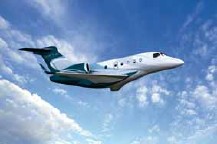 The National Agency of Civil Aviation (ANAC) of Brazil on August 12 issued a type certificate for the business jet Legacy 450-medium class with capacities ranging from 7 to 9 pass., Said aircraft manufacturer - the company Embraer. According to the aircraft manufacturer's plans, "in the coming weeks," the machine will be certified by the Federal Aviation Administration of the United States (FAA) and European Aviation Safety Agency (EASA).
The Embraer said that mass production of Legacy 450 has already begun. The first sun of this type must be put in the IV quarter 2015
Issuance of the certificate for a new business jet occurred a year after the certification of the other aircraft in this series - more roomy Legacy 500 is designed to carry 12 pass. The program to build both cars was launched in 2008. The unification of the aircraft up to 95%. In particular, they have the same avionics Rockwell Collins Pro Line Fusion. As stated by the aircraft builder, Legacy 450 - this is the first aircraft in its class with a wire system.
The first flight of the prototype business jet in December 2013. In October 2014 Embraer announced an increase in flight range Legacy 450 4259.6 to 4630.0 km without impairing other characteristics, as well as an increase in the length of the passenger compartment is 6 inches (15 cm).
The machine is capable of taking on board up to 1350 kg, it is equipped with two turbofan engines Honeywell HTF7500E. The maximum cruising speed of 1015.92 km / h, which is the highest indicator among its nearest competitors, stress in the company. For takeoff Legacy 450 requires no more than 1166 m.
Initially, the Brazilian manufacturer expected to receive type certificate for this machine back in 2013, but the program business jet Legacy 500, which is planned to certify the first behind schedule, and this has affected the timing of the program Legacy 450.
Back to other news