Sales of Falcon business jets in the first half decreased by 62%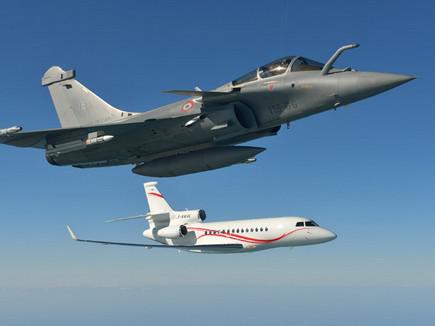 The pace of sales of business jets Dassault Falcon in the first half of 2015 decreased significantly: the manufacturer has received 25 orders for the sum of 610 million euros, which is 62% lower than the same period last year. At the moment the order backlog includes 108 boards, according to the semi-annual report Dassault Aviation.
Reduced the number of deliveries: if in the first half of last year gave customers 25 business jets in the current year - only 18 (28%). The total cost of the transferred in 2015 business jet was 919 million euros. As explained in the company, in the first half of the year is traditionally supplies remain low. By results of 2015 the number of all transmitted boards is projected at last year, when customers received 65 aircraft Falcon.
Along the way, in 2015 its order for 20 aircraft Falcon 2000S, placed back in 2006, abolished the operator of fractional ownership of US NetJets. "Earlier this year, the customer said that is not ready to receive aircraft," - said the president of Dassault Aviation Eric ladder. This event, as well as a decrease in consumer activity, he explains the weakening of the global economy. "After a good 2014 start of 2015 did not impress - shared the ramp. - Competition is extremely tight, and the political and economic situation remains fragile."
According to observations of head of Dassault Aviation, the most noticeable fall in demand in Brazil, while in the United States and Europe, it is relatively predictable. The second half of the year is usually characterized by increased activity of buyers. In addition, the secondary market enterprise-class aircraft perked up noticeably, which also indirectly affects the sale of new equipment.
Back to other news