TAG Aviation announced a partnership with Bromma Business Jet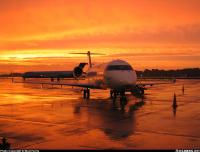 TAG Aviation Europe (European division TAG Aviation Group) announced an exclusive contract with the Swedish business operator Bromma Business Jet. The agreement involves the sale of two aircraft charters to Swedish companies that are now available to customers TAG Aviation Europe. It is about two 11-seater Falcon 7X (SE-DJL and SE-DJK), which will be based in Geneva and Moscow. This BizavNews told in TAG Aviation Europe.
Gaining access to the Swedish sides of TAG Aviation Europe becomes the largest charter operator in Europe, this type of aircraft (six business jets). As told by Mark Christie, charter sales manager for TAG Aviation UK, the two sides can fly to the US on the Visa Waiver Program and is fully available for charter.
In turn, Brian Liddle, head Bromma Business Jet, said that the contract for two cars - is only the first step towards a long-term partnership, and the number of aircraft in the future, "passed" under the scheme will be increased.
Now, with the aircraft under the management of the company, TAG Aviation fleet numbers more than 120 aircraft (53 of its own), which are based in the US, UK, Switzerland, Spain, Russia, Ukraine and the Middle East, and Hong Kong. By the end of this year, TAG Aviation expects to commission up to 15 business jets. Currently, TAG Aviation Group is certified operator in Switzerland, the UK, Spain, Bahrain and Hong Kong.
In addition to charter flights TAG Aviation is active in other sectors, including the management of aircraft maintenance and repair services and training. TAG Aviation also operates its own FBO in Geneva, Farnborough, Zion, and Madrid, where the company provides a full range of services including ground handling and fuel supply.
Back to other news