Airbus A321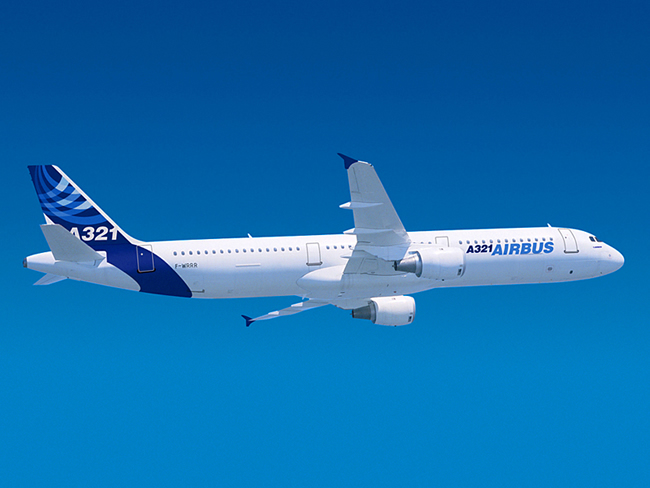 The benchmark A320 Family's largest member – the A321 – offers airline customers the best seat-mile costs of any single-aisle aircraft and seating capacities comparable to that of a widebody jetliner.

This aircraft has a stretched fuselage with an overall length of 44.51 metres, along with an extended operating range of up to 3,000 nautical miles while carrying a maximum passenger payload. Like each member in Airbus' best-selling A320 Family of jetliners, the A321 offers the lowest fuel burn, emissions and noise footprint in its class.

The A321 typically accommodates 185 passengers in a two-class configuration (15 in first class and 169 in economy) – while offering unbeatable economics in high-density seating (with up to 220 passengers) for charter and low-cost operators. The twin-engine A321 can be powered by either of two engine options: the CFM International CFM56 or International Aero Engines' V2500.
The A321 benefits from operational commonality with its fellow A320 Family members, providing carriers with tremendous flexibility in matching aircraft to specific route requirements. All A320 Family aircraft share a single type rating – allowing pilots to fly any member of the Family after attending only one training course and enabling the same team of mechanics to maintain an aircraft.

With only minimal additional training, pilots also can transition quickly from these single-aisle jetliners to Airbus' larger long-range aircraft quickly thanks to the unique family concept and their exceptional degree of operational commonality.
Plane info
Cruise speed: 840 km/h
Total range: 5 950 km
Engines: 2×IAE V2500-A5

Aircraft dimensions

Wingspan: 34.1 m
Length: 44.51 m
Height: 11.76 m
Cabin
Passengers: up to 220