Airbus A330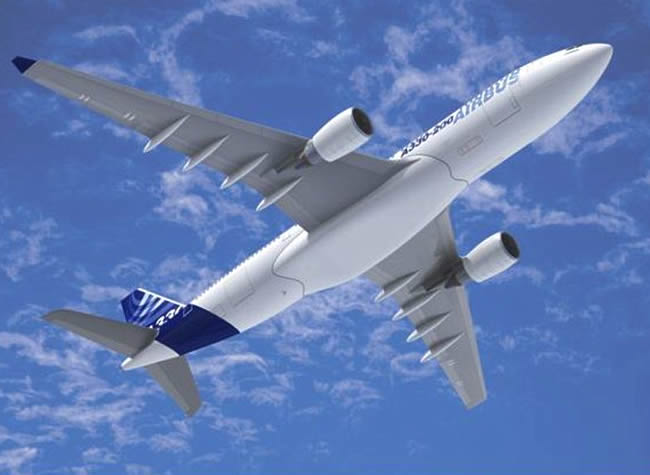 The Airbus A330 is a large-capacity, wide-body, twin-engine, medium- to long-range commercial passenger jet airliner. Developed by European consortium Airbus Industrie, the A330 is manufactured at Toulouse, France. The Airbus A330 can accommodate up to 335 passengers in a two-class layout, or carry 70 tonnes (150,000 lb) of cargo, with a range from 4,000 to 7,250 nautical miles (7,400 to 13,430 km), depending on model.

Airbus began by studying derivatives of its A300 in the 1970s before moving to larger designs and then launching the new A330 and A340 models in June 1987. The A330 was developed alongside the four-engine Airbus A340, with which it shares a common fuselage and wing components. It incorporates fly-by-wire technology originally introduced by Airbus on its A320. Airbus also decided that the A330 and A340 would adopt a common flight deck of the A320, that is, they share the same cockpit. The aircraft is the first Airbus airliner to be powered by three engines: CF6-80E1, Pratt & Whitney PW4000 and Rolls-Royce Trent 700, although the -200F is powered by the two latter engines. First flown on 2 November 1992, the A330-300 variant was the first of two passenger models to enter commercial service with Air Inter in 1994. Due to dwindling sales, it was followed by the slightly shorter but more popular -200 model in 1998. Airbus has also launched dedicated freighter and tanker variants.

From its entry into service, the A330 has allowed Airbus to expand its market share in wide-body airliner sales. Airlines selected the A330 as a replacement for less economical trijet airliners, and in competition with rival twinjet aircraft. To counter the A330 and A340, Boeing has offered variants of the 767 and 777. By January 2011, the A330's order book stood at 1,106, of which 755 are delivered. The A330 will also compete directly with the Boeing 787 Dreamliner. Airbus's A350 will also share this wide-body airliner market.
Plane info
Cruise speed: 913 km/h
Total range: 13 400 km
Engines: 2×Pratt & Whitney PW4000

Aircraft dimensions

Wingspan: 60.30 m
Length: 58.82 m
Height: 17.39 m
Cabin
Width: 5.28 m
Passengers: up to 253