Airbus A340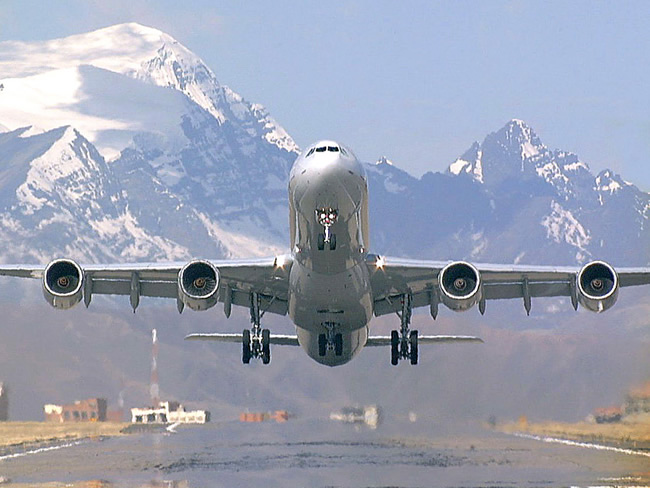 The Airbus A340 is a long-range four-engined wide-body commercial passenger jet airliner. Developed by Airbus Industrie,note 1 a consortium of European aerospace companies, which is now fully-owned by EADS, the A340 is manufactured at Toulouse, France . It seats up to 375 passengers in the standard variants and 440 in the stretched -600 series. Depending on the model, it has a range of between 6,700 to 9,000 nautical miles (12,400 to 17,000 km). It is similar in design to the twin-engined A330 with which it was concurrently designed. Its distinguishing features are four high-bypass turbofan engines and three-bogie main landing gear.

Airbus manufactured the A340 in four fuselage lengths. The initial variant, A340-300, entered service in 1993, measured 59.39 metres (194.8 ft), followed by the shorter -200; the stretched A340-600 was a 15.91 metres (52.2 ft) stretch of -200. This particular variant was developed alongside the shorter A340-500, which would become the longest-ranged commercial airliner until the arrival of the Boeing 777-200LR. The two initial models were powered by the CFM56-5C, rated at 151 kilonewtons (34,000 lbf), while Rolls-Royce held exclusive powerplant rights to the extended-ranged and heavier -500 and -600 models, through the 267-kilonewton (60,000 lbf) Rolls-Royce Trent 500. Initial A340 versions share the fuselage and wing of the A330 while the -500/-600 models are longer and have larger wings.

Launch customers Lufthansa and Air France placed the A340 into service in March 1993. As of October 2010, 379 orders have been placed (not including private operators), of which 374 have been delivered, with a backlog of five aircraft. The most common type were the A340-300 model, with 218 aircraft delivered. Lufthansa is the biggest operator of the A340, having acquired 59 aircraft. The A340 is used on long-haul, trans-oceanic routes due to its immunity from ETOPS; however, with reliability in engines improving, airlines are progressively phasing out the type in favour of more economical twinjets such as the Boeing 777.
Plane info
Cruise speed: 917 km/h
Total range: 12 400 km
Engines: 2×CFM56-5C4/P

Aircraft dimensions

Wingspan: 60.30 m
Length: 59.40 m
Height: 16.80 m
Cabin
Passengers: up to 261