BAe RJ85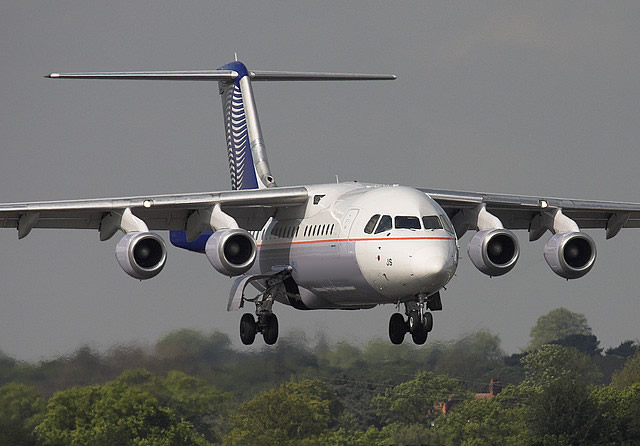 The Avro RJ series are upgraded developments of the BAe-146 family (see separate entry), and like the 146 was built in three fuselage length variants, the RJ70, RJ85 and RJ100.

In 1990 British Aerospace first offered the improved RJ70 and RJ80, both of which were based on the 146-100. They would have seated 70 and 80 passengers respectively, but these two designs matured in the Avro RJ70 (officially Avro 146-RJ70) with improved FADEC equipped LF-507 engines and digital avionics.

The 146-200 based Avro RJ85 was the first member of the new family to fly, on March 23 1992. The biggest member of the family, the 146-300 based RJ100, first flew on May 13 1992. The 146-100 based RJ70 was delivered from late 1993 but due to low customer interest, only 12 were sold.

RJ improvements over the 146 include more reliable and efficient FADEC equipped AlliedSignal (now Honeywell) LF-507 engines, new "Spaceliner" cabin interior and a digital flightdeck. Weight and drag savings were introduced in 1996.

The RJ100 was also offered as the RJ115 with extra emergency exits to seat 116 to 128 in a high density six abreast configuration. None were built however. The RJ was also offered as the Avro Business Jet, but also none of these were built.

The RJ series was originally manufactured and marketed by Avro International Aerospace, a separate British Aerospace company, so named as RJ production was undertaken at the former Avro factory near Manchester (most 146s were built at Hatfield). Subsequent plans for a partnership with Taiwan Aerospace, which would have seen the RJ series built in Taiwan fell through and Avro subsequently became part of AI(R) to handle marketing, sales and support of British Aerospace (Avro and Jetstream) and ATR commercial aircraft. However, AI(R) disbanded in mid 1998 and the Avro RJ range became again a British Aerospace (later BAE Systems) product.

The last RJ was delivered in 2002. A modernised development became the Avro RJX, for which see the separate entry.
Plane info
Cruise speed: 893 km/h
Total range: 2 075 km
Engines: 4 x Honeywell ALF 502R-5

Aircraft dimensions

Wingspan: 26.34 m
Length: 28.55 m
Height: 8.61 m
Cabin
Passengers: up to 112