Boeing 717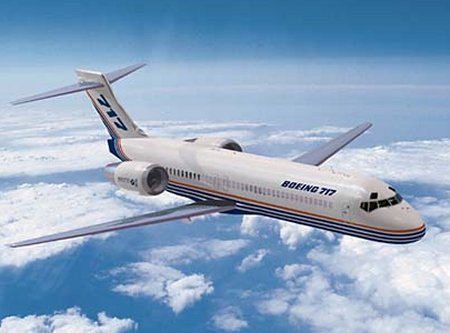 The Boeing 717 is a twin-engine, single-aisle jet airliner, developed for the 100-seat market. The airliner was designed and marketed by McDonnell Douglas as the MD-95, a third-generation derivative of the DC-9. Capable of seating of up to 117 passengers, the 717 has maximum range of 2,060 nautical miles (3,820 km). The aircraft is powered by two Rolls-Royce turbofan engines.

The first order was placed in October 1995; McDonnell Douglas and Boeing merged in 1997 prior to production, and the first planes entered service in 1999 as the Boeing 717. Production ceased in May 2006 after 156 were produced.
The 717 features a two-crew cockpit that incorporates six interchangeable liquid-crystal-display units and advanced Honeywell VIA 2000 computers. The cockpit design is called Advanced Common Flightdeck (ACF) and is shared with the MD-11. Flight deck features include an Electronic Instrument System, a dual Flight Management System, a Central Fault Display System, and Global Positioning System. Category IIIb automatic landing capability for bad-weather operations and Future Air Navigation Systems are available. The 717 shares the same type rating as the DC-9 such that FAA approved transition courses for DC-9 and analog MD-80 pilots can be completed in 11 days.

In conjunction with Parker Hannifin, MPC Products of Skokie, Illinois designed a fly-by-wire technology mechanical control suite for the 717 flight deck. The modules replaced much cumbersome rigging that had occurred in previous DC-9/MD-80 aircraft. The Rolls-Royce BR715 engines are completely controlled by an electronic engine system (FADEC — Full Authority Digital Engine Control) developed by BAE Systems, offering improved controllability and optimization over its predecessors.

Like its DC-9/MD-80/MD-90 predecessors, the 717 has a 2+3 seating arrangement in coach, providing only one middle seat per row, whereas other single-aisle twin jets often have 3+3 arrangement with two middle seats per row. Unlike its predecessors, McDonnell Douglas decided not to offer the 717 with the boarding flexibility of aft airstairs, with the goal of maximizing fuel efficiency through the reduction and simplification of as much auxiliary equipment as possible.
Plane info
Cruise speed: 811 km/h
Total range: 2 645 km
Engines: 2 x Rolls Royce BR715-A1-30

Aircraft dimensions

Wingspan: 28.47 m
Length: 37.8 m
Height: 8.92 m
Cabin
Width: 3.14 m
Passengers: up to 117