Bombardier CRJ 1000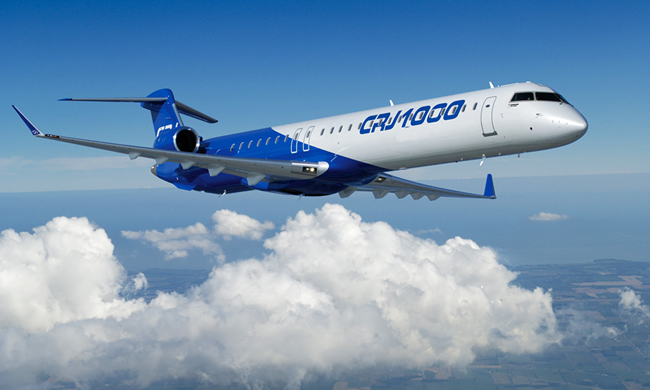 The Bombardier CRJ700, CRJ900, and CRJ1000 are regional airliners based on the Bombardier CRJ200. Final assembly of the aircraft is at Montréal-Mirabel International Airport in Mirabel, Quebec, outside Montreal, Canada.

Following the success of the CRJ100/200 series, Bombardier produced larger variants in order to compete with larger regional aircraft such as the Embraer E-Jets family, Fokker 70/100 series and the BAe 146/Avro RJ family.

On 19 February 2007, Bombardier launched the CRJ1000, previously designated CRJ900X, as a stretched CRJ900, with up to 100 seats. Bombardier claims that it offers better performance and a higher profit per seat than the competing Embraer E-190. Brit Air and Air Nostrum are the launch customers for the CRJ1000. MyAir had ordered 15 CRJ900Xs that were converted to the CRJ1000, but the airline went bankrupt on 24 July 2009. Atlasjet also indicated interest in the new type.

The CRJ1000 successfully completed its first flight in 2008. Bombardier, however, stated that the introduction into service had been delayed until the first quarter of 2010. On 14 June 2009 Bombardier announced a new firm order for 15 CRJ1000 NextGen aircraft placed by Air Nostrum, for a total of 35 CRJ1000 NextGen aircraft. There are 49 firm orders and 4 options for the variant as of August 2009.

The variant completed its first production flight on 28 July 2009 in Montreal; the entry into service was planned then for the first quarter of 2010. A month after the first flight, however, a fault in the rudder controls forced the flight-test program to be grounded. The program was not resumed until February 2010, and deliveries were projected to begin by January 2011.

Bombardier Aerospace announced on 10 November 2010 that its 100-seat CRJ1000 was awarded Aircraft Type Certificates from Transport Canada and European Aviation Safety Agency, clearing the way for deliveries to begin. On 14 December 2010, Bombardier began CRJ1000 deliveries to Brit Air and Air Nostrum. On 23 December 2010 it was announced that the Federal Aviation Administration had also awarded a type certificate, allowing the CRJ1000 to operate in US airspace. The FAA Type Certificate designation of the CRJ1000 is the CL-600-2E25.
Plane info
Cruise speed: 870 km/h
Total range: 1 683 km
Engines: 2×GE CF34-8C5A1

Aircraft dimensions

Wingspan: 26.18 m
Length: 39.13 m
Height: 7.50 m
Cabin
Passengers: up to 100