Bombardier CRJ 700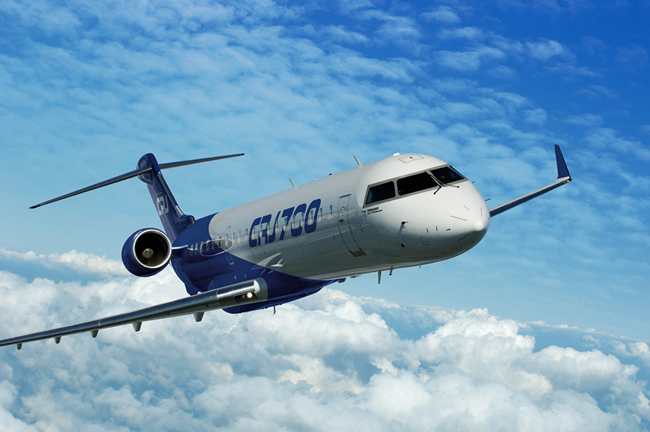 The Bombardier CRJ700, CRJ900, and CRJ1000 are regional airliners based on the Bombardier CRJ200. Final assembly of the aircraft is at Montréal-Mirabel International Airport in Mirabel, Quebec, outside Montreal, Canada.

Following the success of the CRJ100/200 series, Bombardier produced larger variants in order to compete with larger regional aircraft such as the Embraer E-Jets family, Fokker 70/100 series and the BAe 146/Avro RJ family.

Design work on the CRJ700 by Bombardier started in 1995 and the programme was officially launched in January 1997. The CRJ700 is a stretched 70-seat derivative of the CRJ200. Seating ranges from 66 to 78 for the CRJ700 versions, however. The CRJ700 features a new wing with leading edge slats and a stretched and slightly widened fuselage, with a lowered floor.

The aircraft is equipped with the General Electric CF34-8C1 engine. Maximum speed is Mach 0.85 (556 miles per hour) at a maximum altitude of 41,000 feet (12,500 m). Depending upon payload, the CRJ700 can travel up to 2,250 miles (3,620 km) with current engines, and a new variant with CF34-8C5 engines will be able to travel up to 2,895 miles (4,660 km).

The CRJ700 comes in three versions: Series 700, Series 701, and Series 702. The 700 is limited to 68 passengers, the 701 to 70 passengers, and the 702 to 78 passengers. The CRJ700 also has three fuel/weight options: standard, ER, and LR. The ER version has an increase in fuel capacity as well as maximum weight, which in turn increases the range. The LR increases those values further.

Its first flight took place on May 27, 1999. The aircraft's FAA Type Certificate designation is the CL-600-2C10. The CRJ700 first entered commercial service with Brit Air in 2001.

The CRJ700 directly competes with the Embraer 170, which typically seats 70 passengers. However, the CRJ-700 is 10% more cost-effective to operate than the E-170.

In 2008, the CRJ700 was replaced with the CRJ700 NextGen, featuring improved economics and a revised cabin common to the CRJ900 NextGen and CRJ1000 NextGen. In January 2011 SkyWest Airlines ordered four CRJ700 NextGen aircraft.
Plane info
Cruise speed: 875 km/h
Total range: 3 800 km
Engines: 2×GE CF34-8C5

Aircraft dimensions

Wingspan: 23.24 m
Length: 32.51 m
Height: 7.57 m
Cabin
Passengers: up to 70