Embraer 195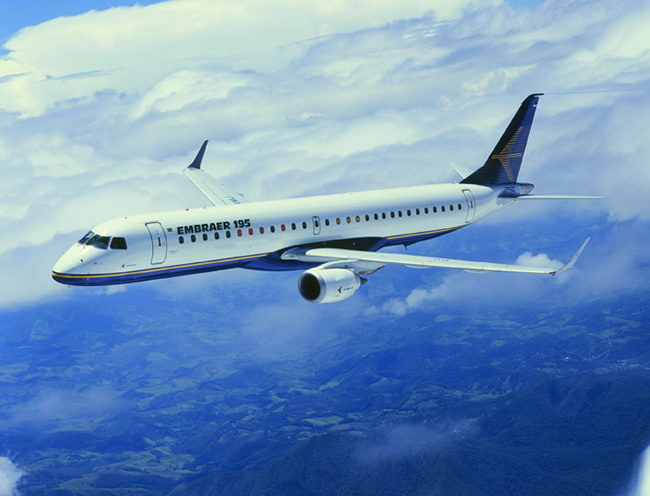 The Embraer E-Jets are a series of narrow-body, twin-engine, medium-range, jet airliners produced by Embraer, a Brazilian aerospace conglomerate that produces commercial, military, and corporate aircraft. Announced at the Paris Air Show in 1999, and entering production in 2002, the aircraft series has been a success. As of September 30, 2010, there is a backlog of 245 firm orders for the E-Jets and 747 options. The manufacturer reported that 671 units had been delivered by September 30, 2010, and predicted that by the end of 2016, more than 1,100 units would be delivered.

The E-190/195 family is a larger stretch of the E-170/175 family fitted with a new, larger wing, larger horizontal stabilizer and a new engine, the GE CF34-10E, rated at 18,500 lb (82.30 kN). These aircraft compete with the Bombardier CRJ-1000. In addition, being in the 100-seat range, it competes with smaller mainline jets including the Boeing 717-200, and 737-500/-600 the Airbus A318, and the upcoming Bombardier CSeries.

The first flight of the E-190 was in March 12th, 2004 (PP-XMA), with the first flight of the E-195 (PP-XMJ) in December 7th of the same year. The launch customer of the E-190 was New York-based low cost carrier JetBlue with 100 orders and 100 options. British low cost carrier Flybe launched the E-195 with 14 orders and 12 options.

As the 190/195 family is of mainline aircraft size, many airlines will operate them as such, fitting them with a business class section and operating them themselves, instead of having them flown by a regional airline partner.[citation needed] For example, Air Canada operates 45 E-190 aircraft fitted with 9 business-class and 84 economy-class seats as part of their primary fleet.
Plane info
Cruise speed: 890 km/h
Total range: 3 350 km
Engines: 2×GE CF34-10E

Aircraft dimensions

Wingspan: 28.7 m
Length: 38.65 m
Height: 10.28 m
Cabin
Width: 2.74 m
Passengers: up to 118