Lockheed L-1011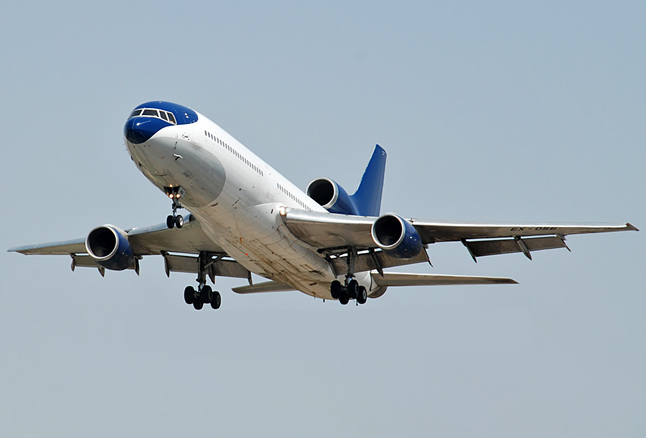 The Lockheed TriStar was the second widebody airliner to be launched, and although it was dogged with early financial and development problems, particularly with the engine, it went on to gain an excellent reputation in service for its reliability, economy of operation and low noise emissions.

The L-1011 TriStar was the last Lockheed airliner to be developed and was launched in March 1968 in response to an American Airlines requirement (that also resulted in the DC-10) for a large capacity medium range airliner. Lockheed initially studied a twin engined layout, but it was decided that three engines would be necessary to ensure it could takeoff at max weights from existing runways.

Work on the L-1011 prototype began early in 1969, resulting in a November 16 1970 first flight. The engine choice of Rolls-Royce's advanced three shaft design RB211 however dogged the TriStar's early career. Rolls-Royce went bankrupt in February 1970 largely due to higher than estimated RB211 development costs, severely harming both Lockheed and the TriStar sales program. The problems were able to be resolved after the British government nationalised Rolls-Royce, guaranteeing the supply of production engines. Despite the initial problems the RB211 proved to be extremely reliable and efficient in service and grew into a family of variants.

The first L-1011 model that entered service with Eastern and TWA in April 1972 was the initial domestic L-1011-1 (which was built in greater numbers than any other TriStar variant). Subsequent models to be developed were the -100 with more fuel and higher weights, the -200 with higher thrust engines, and the long range shorter fuselage -500, described separately.

Production ceased in 1983, when 250 had been built. The prototype was sold to be broken up for spares in 1986.

Many aircraft were converted to improved models: the -50 with a higher MTOW and strengthened fuselage, wings, and undercarriage, the -150 with a higher MTOW, the -250 with RB211-524B4 engines (as on the 500) for US carrier Delta, a small number to freighters with a large cargo door as -1(F) and -200(F), and quite a few to -100 and -200.

An ex Air Canada TriStar 100 was converted in 1992 by Marshall of Cambridge (Engineering) Ltd for Orbital Sciences Corporation as the "Stargazer" flying satellite launcher. After launching the Pegasus Air-Launched Space Booster from the TriStar, the Pegasus itself launched a satellite into low Earth orbit.

Another TriStar 100, ex Worldways Canada, was converted in 1995/1996 by Lockheed Aeromod Center to a flying hospital for Operation Blessing International Relief & Development Corporation, a non-profit humanitarian organisation. Apart from the hospital equipment, the aircraft is fitted with systems to be independent from local ground-based equipment.

Approximately 156 TriStars remained in service in 1998, of which 122 were standard fuselage models. In 2000 this number had gone down to about 137, of which 109 standard fuselage models, and at the end of 2002 this had further dropped to 51 active TriStars, of which 23 standard fuselage ones.
Plane info
Cruise speed: 922 km/h
Total range: 7 419 km
Engines: 3 x Rolls Royce RB211-22

Aircraft dimensions

Wingspan: 47.3 m
Length: 54.2 m
Height: 16.7 m
Cabin
Passengers: up to 253