Embraer 145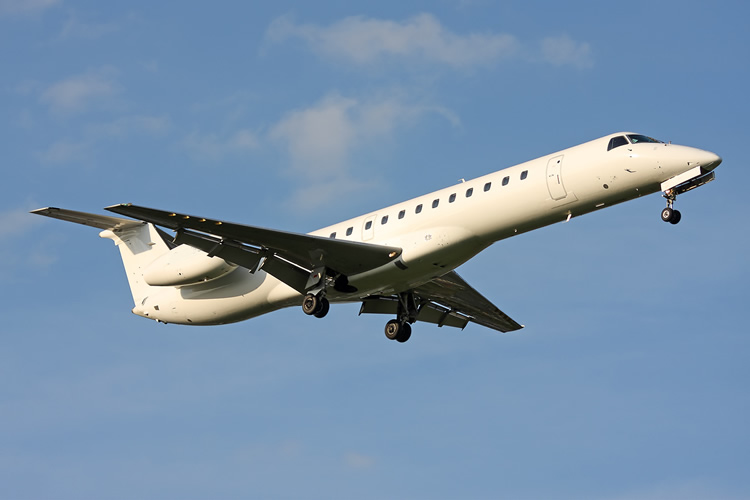 The ERJ 145 is a family of regional jets produced by Embraer, a Brazilian aerospace company. Family members include the ERJ 135 (37 passengers), ERJ 140 (44 passengers), and ERJ 145 (50 passengers), as well as the Legacy business jet and the R-99 family of military aircraft. The ERJ 145 is the largest of the group. Each jet in the series is powered by two turbofan engines. The family's primary competition comes from the Bombardier CRJ regional jets.

The ERJ 145 was launched at the Paris Airshow in 1989 as a stretched and turbofan-powered modification of the EMB 120 Brasilia. Key components of this design included:
Straight wing (with winglets);
Rear Fuselage-mounted engines;
Range of 2500 km;
75% parts commonality with the EMB 120.
The ERJ 140 is based on the ERJ 145 with 96% parts commonality and the same crew type rating. The only significant changes are a shorter fuselage, a slightly derated engine and an increased range. At launch, Embraer estimated the cost of an ERJ 140 to be approximately US$15.2 million. The estimated cost of development of the ERJ 140 was US$45 million. The ERJ 135, with a service entry date of 1999, has 95% parts commonality with the ERJ 145, but is 11.7 feet (3.6 m) shorter.

The ERJ 145 seats 50 passengers, the ERJ 140 seats 44, and the ERJ 135 seats 37. The ERJ 140 was designed with fewer seats in order to meet the needs of some major United States airlines, which have an agreement with the pilot union as to the number of 50-seat aircraft that can be operated in their mixed fleets.

In 2003, Embraer entered a partnership with the Harbin Aircraft Manufacturing Corporation of Harbin, China. The resulting company, Harbin Embraer, began producing the ERJ 145 for the Chinese market by assembling complete knock down kits premanufactured by other worldwide Embraer operations.
Plane info
Cruise speed: 740 km/h
Total range: 2 500 km
Engines: 2 x Allison AE 3007A turbofan

Aircraft dimensions

Wingspan: 20.04 m
Length: 29.87 m
Height: 6.75 m
Cabin
Length: 16.49 m
Width: 2.1 m
Height: 1.82 m
Passengers: up to 50