Bombardier Global Express XRS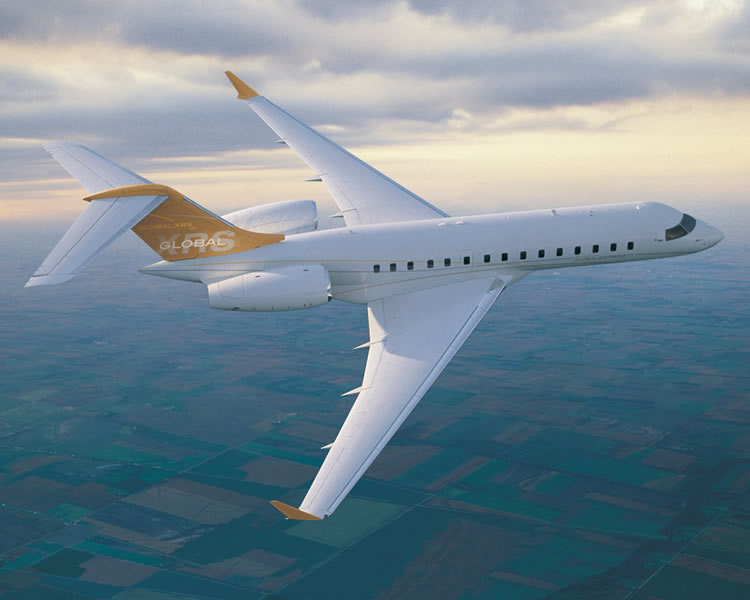 Bombardier Aerospace began studies in 1991 and the aircraft was officially launched in 1993. The first flight occurred on October 13, 1996.

The Global Express shares the Canadair Regional Jet's fuselage cross section and is similar in length, but despite the size similarities the two aircraft are very different due to the nature of their roles. The Global Express features an advanced all new supercritical wing with a 35° sweep and winglets, plus a new T-tail. The aircraft is powered by two BMW RollsRoyce BR-710 turbofans with FADEC. The advanced flightdeck features a six screen Honeywell Primus 2000 XP EFIS suite and is offered with optional heads-up displays.

The Global Express was announced on October 28, 1991 at the NBAA convention. Full-scale cabin mockup was exhibited at the NBAA convention in September 1992. Conceptual design started early 1993 and the programme was officially launched on December 20, 1993. The aircraft high-speed configuration was frozen in June 1994 and the low-speed configuration was established in August 1994.

The Global Express can fly intercontinental ranges without refueling (e.g. New York–Tokyo) or between most two points in the world with only one stop. In this class the Global Express competes with the Airbus Corporate Jet, Boeing Business Jet, Dassault Falcon 7X and Gulfstream G550.

Bombardier subsidiaries have three specific roles in the project: Canadair is the design leader and manufactures the nose; Short Brothers, Belfast is responsible for the design and manufacture of the engine nacelles, horizontal stabiliser and forward fuselage; and de Havilland Canada builds the rear fuselage and vertical tail and carries out final assembly. The major external supplier is Japan's Mitsubishi Heavy Industries which builds the wing and centre fuselage sections.

The Global Express XRS is an improved version of the original aircraft, (announced on October 6, 2003 during the NBAA Convention at Orlando (Florida)) offering higher cruise speed, increased range, improved cabin layout and lighting. It is reported that the letters have no significance, but were chosen by focus groups simply to improve the brand image. The range increase is achieved by addition of a 1,486 lb (674 kg) fuel tank at the wing root. The Global Express XRS entered service in early 2006. The unit price is estimated to be $45.5 million (US). Bombardier claims it takes 15 minutes less to fuel the XRS than the original model thanks to improved computer systems and mechanical refinements.
Plane info
Cruise speed: 904 km/h
Total range: 11 389 km

Aircraft dimensions
Wingspan: 30.3 m
Length: 7.6 m
Height: 28.6 m
Cabin
Length: 14.7 m
Width: 2.49 m
Height: 1.91 m
Passengers: up to 13