Gulfstream IV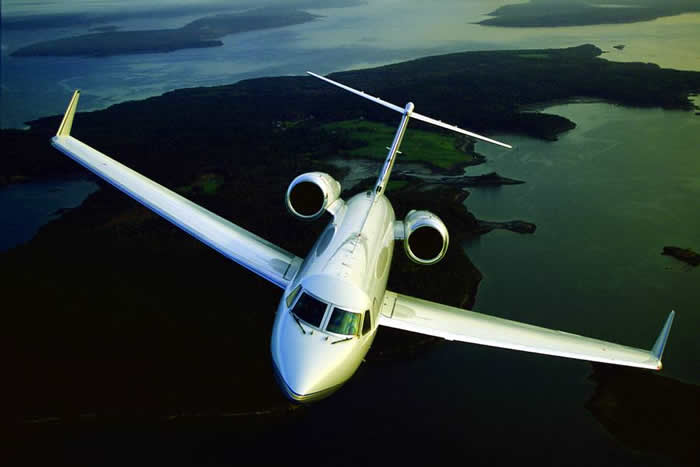 The Gulfstream IV (or GIV) and derivatives are a family of private jet aircraft produced by Gulfstream Aerospace, a General Dynamics company based in Savannah, Georgia, United States. The G-IV ceased production in 2003.

Gulfstream began work on the GIV in 1983. The first GIV made its maiden flight on September 19, 1985. The model received type certification from the FAA in April 1987. The G-IV entered into service with serial number 1000 in 1987 and was upgraded to the special purpose GIV-SP version at serial number 1214 in 1993. It was later redesignated G400 at serial number 1500.

A shorter range variant was created based on the GIV and given the G300 designation in 2002. The G400 has a large cabin, long range of 4,350 nautical miles (8,060 km) and the same comfort and design that characterize the G series. Typical cruise height and speed are 45,000 ft and Mach 0.88. Earlier models were fitted with Honeywell's SPZ 8000 Avionics package. The SPZ 8400 Avionics Package was an option, becoming standard on later models. It costs about $15 million at 2009 prices.

In 2001 Gulfstream began work an improved version of the GIV-SP, originally designated GIV-X. It was later renamed G450. The G450 is lengthened 1 ft (0.305 m) over the G400 and shares the forward fuselage and larger cockpit of the G550. Production of the G450 began in October 2004, replacing the G400. The G450 has better performance and comes with the PlaneView cockpit with four 14 in (355 mm) liquid crystal displays and a Head up display (HUD). The shorter range G350 version of the G450 was developed and received certification in 2004.
Plane info
Cruise speed: 850 km/h
Total range: 6 732 km
Engines: 2 x Rolls-Royce Tay Mk.6118

Aircraft dimensions

Wingspan: 23.72 m
Length: 26.92 m
Height: 7.45 m
Cabin
Length: 13.75 m
Width: 2.23 m
Height: 1.89 m
Passengers: up to 15
Baggage capacity: 4.7 cubic m