Cessna Citation II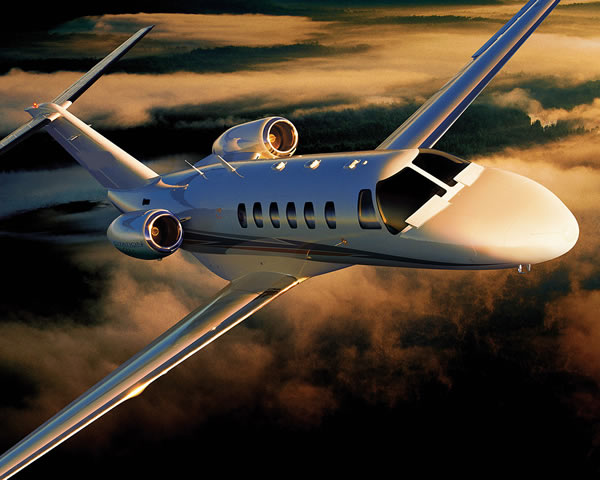 The Cessna Citation is a marketing name used by Cessna for its line of business jets. Rather than one particular model of aircraft, the name applies to several "families" of turbofan-powered aircraft that have been produced over the years. Within each of the six distinct families, aircraft design improvements, market pressures and re-branding efforts have resulted in a number of variants, so that the Citation lineage has become quite complex. Military variants include the T-47 and UC-35 series aircraft.

The Cessna Citation II was the first of the Model 550 series of Citation jets, which are light corporate jet built by Cessna. A direct development of the Citation I, the Citation II led to the later development of the Citation II/SP, the S550 Citation S/II, and the Citation Bravo. The Citation II was also used by the United States Navy under the designation T-47A for radar system training, while the OT-47B was procured by the United States Department of Defense for drug interdiction reconnaissance.

The Citation II, Model 550, was a direct development from the Citation I. The earlier aircraft's success in the market led Cessna to believe there was demand for a larger aircraft that utilized the same design philosophy. The result was the Citation II, which had a maximum seating capacity of 10. In addition to more seats, the plane had more powerful JT15D4 engines, faster speeds and longer range. First flight was on January 31, 1977, and the aircraft was certified for two-pilot operation in March, 1978. A total of 603 aircraft were built before the Citation II was replaced by the Bravo in the production line.
Plane info
Cruise speed: 746 km/h
Total range: 3 223 km
Engines: 2 x Pratt & Whitney JT15D4Bs

Aircraft dimensions

Wingspan: 15.91 m
Length: 14.39 m
Height: 4.57 m
Cabin
Length: 4.88 m
Width: 1.49 m
Height: 1.46 m
Passengers: up to 7
Baggage capacity: 2.2 cubic m