Cessna Citation V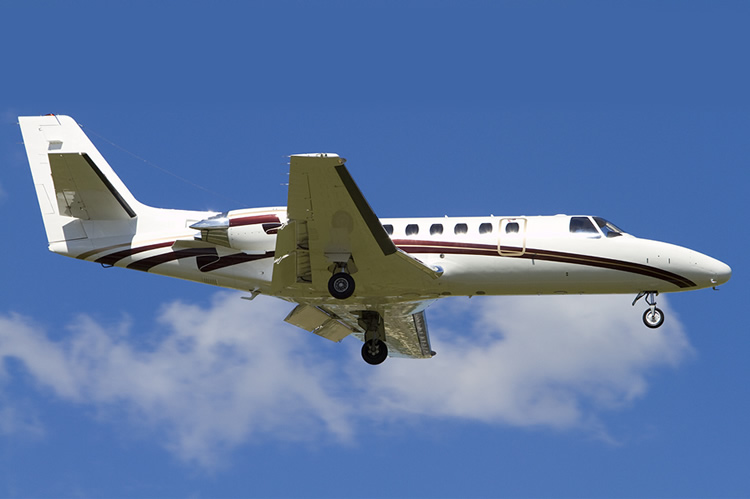 The Cessna Citation is a marketing name used by Cessna for its line of business jets. Rather than one particular model of aircraft, the name applies to several "families" of turbofan-powered aircraft that have been produced over the years. Within each of the six distinct families, aircraft design improvements, market pressures and re-branding efforts have resulted in a number of variants, so that the Citation lineage has become quite complex. Military variants include the T-47 and UC-35 series aircraft.

The Cessna Citation V (Model 560) is a turbofan-powered small-to-medium sized business jet built by the Cessna Aircraft Company in Wichita, Kansas. The Citation brand of business jets encompasses several distinct "families" of aircraft, and the Citation V was the basis for one of these families. This family includes the Citation V, the Citation Ultra, the Citation Encore, and the Citation Encore+. Some models are used by the United States military under the designation UC-35.

After stretching the Citation I to make the II, Cessna decided to increase the size of the cabin again, stretching the fuselage by another 20 inches (510 mm), resulting in the largest member of the straight-wing family, the Model 560 Citation V. The first engineering prototype flew in August 1987, and certification was granted in December, 1988. The aircraft utilized the T-47A's JT15D5A engines for extra performance. By the time the aircraft was superseded in 1994, 262 had been built.
Plane info
Cruise speed: 772 km/h
Total range: 3 236 km
Engines: 2 x Pratt & Whitney JT15D5A

Aircraft dimensions

Wingspan: 15.91 m
Length: 14.9 m
Height: 4.57 m
Cabin
Length: 5.27 m
Width: 1.49 m
Height: 1.46 m
Passengers: up to 7
Baggage capacity: 1.9 cubic m