Cessna Citation Ultra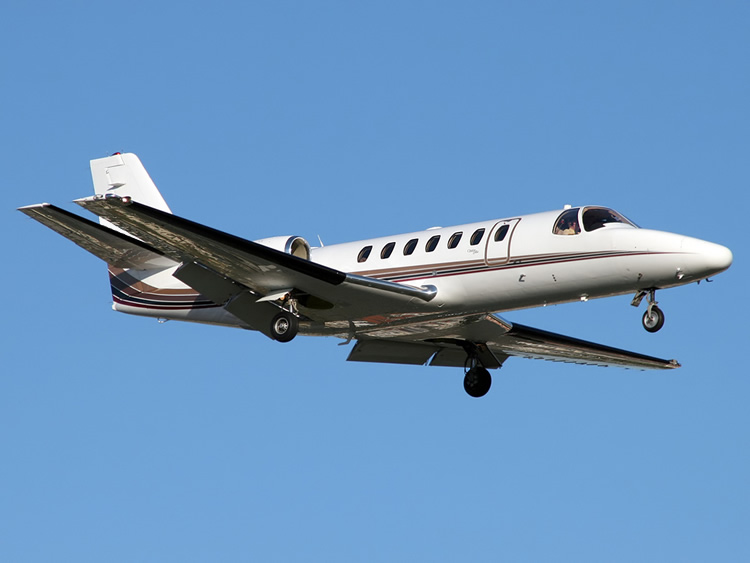 The Cessna Citation V (Model 560) is a turbofan-powered small-to-medium sized business jet built by the Cessna Aircraft Company in Wichita, Kansas. The Citation brand of business jets encompasses several distinct "families" of aircraft, and the Citation V was the basis for one of these families. This family includes the Citation V, the Citation Ultra, the Citation Encore, and the Citation Encore+. Some models are used by the United States military under the designation UC-35.

In 1993, Cessna decided to update the Citation V design, and announced the Citation Ultra, with the main differences being in the engines, which were the latest JT15D-5D version, and the standard avionics suite, which was updated to the Honeywell Primus 1000 EFIS glass cockpit. The Primus 1000 replaced the standard "round dial" flight instruments with three CRT computer screens, one for each pilot and one center mulifunction display. In 1994, the Ultra was named Flying magazine's "Best Business Jet". The Ultra was produced from 1994-1999.

The UC-35A is the United States Army designation and UC-35C is the United States Marine Corps designation for the Citation Ultra, which replaced older versions of the C-12 Huron.
Plane info
Cruise speed: 796 km/h
Total range: 3 630 km
Engines: 2 x Pratt & Whitney Canada JT15D5Ds

Aircraft dimensions

Wingspan: 15.91 m
Length: 14.9 m
Height: 4.57 m
Cabin
Length: 5.27 m
Width: 1.47 m
Height: 1.43 m
Passengers: up to 8
Baggage capacity: 1.9 cubic m