Learjet 25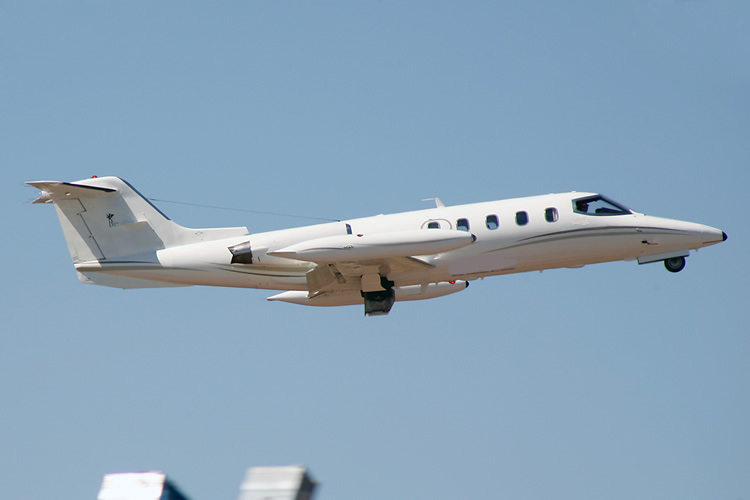 The Learjet 25 is an American ten seat (two crew and eight passengers) twin-engined, high speed business jet aircraft. Manufactured by Learjet as a stretched version of the Learjet 24.The first Model 25 flew on August 12, 1966, and the first delivery was in November 1967. The Learjet 25 is similar to the Model 24 but is 1.27 m (4 ft 2 in) longer, allowing for three additional passengers. In 1970 the Learjet 25B was produced along with the Learjet 25C in the same year. The aircraft has two General Electric CJ610-6 (or CJ610-8) turbojet engines. Baggage is stowed in a compartment at the rear of the cabin.

The cabin interior can be converted to several different configurations to allow for cargo and medevacs. Due to the ease of converting the cabin the Learjet 25 has found a niche as a medevac aircraft. This is achieved by removing the starboard seating to allow for a stretcher, mounting oxygen bottles and Intravenous drip equipment. The two flight crew are then supplemented by either a doctor or flight nurse or both. The Model 25C also has an optional two bed sleeping compartment.

Despite being used at lower altitudes and equipped with small landing gear, the Learjet can land on gravel runways if it is fitted with a special "gravel kit". It is possible for gravel from an improperly packed gravel runway to be sucked into the engines causing "Foreign object damage", thus the need for the kit.

In 1974 the Peruvian Air Force purchased two 25Bs with a belly pod that contained an aerial survey camera.
Plane info
Cruise speed: 860 km/h
Total range: 2 663 km
Engines: 2 x General Electric CJ-610-8As

Aircraft dimensions

Wingspan: 10.84 m
Length: 14.5 m
Height: 3.73 m
Cabin
Length: 3.71 m
Width: 1.49 m
Height: 1.25 m
Passengers: up to 7
Baggage capacity: 1.2 cubic m