Learjet 45/45 XR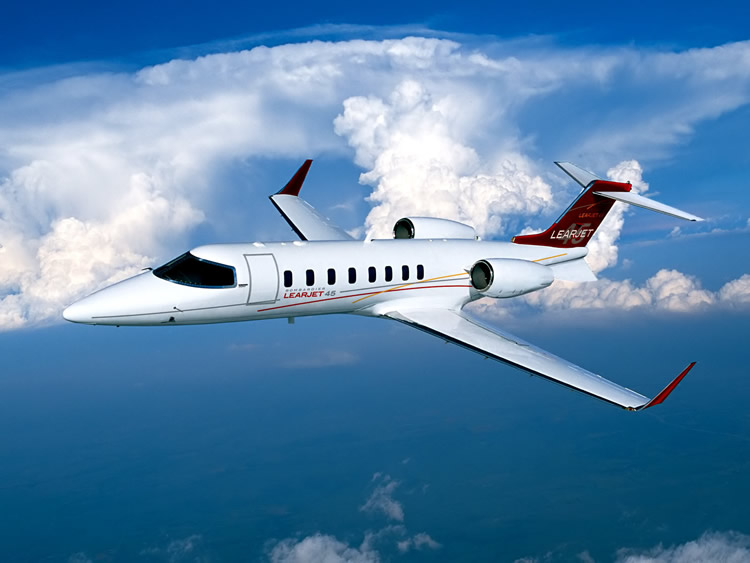 The Learjet 45 (LJ45) aircraft is a mid-sized business jet aircraft produced by Bombardier Aerospace.

The development of the LJ45 was announced by Bombardier in September, 1992, and first flight of the prototype aircraft took place on October 7, 1995, the 32nd anniversary of the first flight of the Learjet 23. FAA certification was delayed, and finally granted in September 1997, with the first customer aircraft subsequently delivered in January, 1998.

The cockpit is equipped with a four-screen Honeywell Primus 1000 EFIS avionics system. The aircraft is powered by two FADEC-controlled Honeywell TFE731-20 engines, a version developed specifically for this airframe. An internal APU provides ground power.

The Learjet 45XR is an upgraded version introduced in June, 2004, offering higher takeoff weights, faster cruise speeds and faster time-to-climb rates as compared to the LJ45. The increases are due to the upgrading of the engines to the TFE731-20BR configuration. LJ45 owners can upgrade their aircraft through the incorporation of several service bulletins.

In size, the LJ45 and LJ45XR fit between the smaller Learjet 31 and Learjet 40 and the larger Learjet 60 in the Lear product line. De Havilland Canada builds the LJ45s wings, and Bombardier subsidiary Short Brothers of Northern Ireland builds the fuselage and empennage.[1] The Learjet 45 is also one of the main aircraft featured in the Microsoft Flight Simulator including Flight Sim 2004 and FSX.
Plane info
Cruise speed: 846 km/h
Total range: 3 763 km
Engines: 2 x Honeywell TFE731-20-AR

Aircraft dimensions

Wingspan: 14.56 m
Length: 17.56 m
Height: 4.31 m
Cabin
Length: 6.06 m
Width: 1.55 m
Height: 1.5 m
Passengers: up to 8
Baggage capacity: 1.84 cubic m