Cessna Citation VII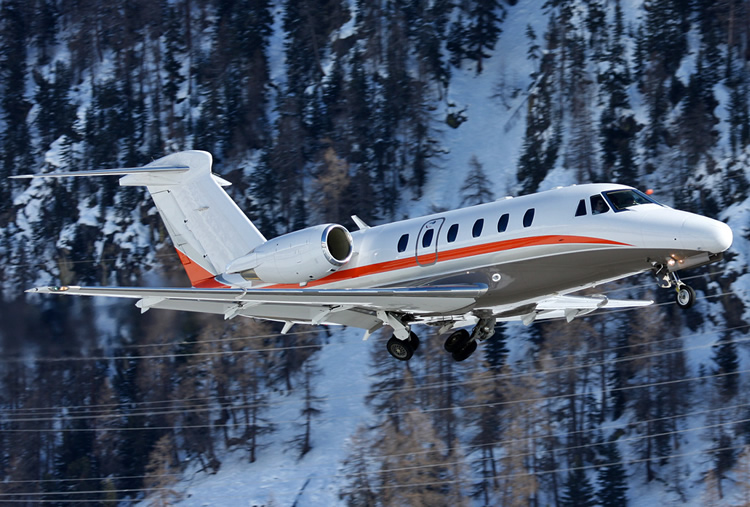 The Cessna Citation is a marketing name used by Cessna for its line of business jets. Rather than one particular model of aircraft, the name applies to several "families" of turbofan-powered aircraft that have been produced over the years. Within each of the six distinct families, aircraft design improvements, market pressures and re-branding efforts have resulted in a number of variants, so that the Citation lineage has become quite complex. Military variants include the T-47 and UC-35 series aircraft.

The Cessna Citation III was the first of the Model 650 series of Citation jets, which are mid-sized, high-performance business jets. The Citation III led to the later development of the Citation VI and Citation VII. The 650 series was the second of six distinct "families" of jets marketed by Cessna Aircraft Company under its Cessna Citation brand.

The second aircraft that Cessna worked on after the cancellation of the IV was the Citation VII, which again was based on the III but intended to take a big step forward in performance. This Citation was a slap in the face of its competitor Learjet, whose pilots often jeered at Cessna's jets as "Slowtations." The Citation VII has an advertised max cruise speed of 480 knots. This bests anything in Learjet's lineup, which to this day advertises max cruise speeds of 465 knots for its Lear 45/60 lines. Improved Garrett TFE731-4R engines enabled the aircraft to operate from higher-altitude airfields during hotter weather, when density altitude prohibited operations of the III. First flight of the VII took place in February, 1991, and by the time production ended nine years later, 119 aircraft had been built.
Plane info
Cruise speed: 881 km/h
Total range: 3 750 km
Engines: 2 x AlliedSignal TFE7314R2Ss

Aircraft dimensions

Wingspan: 16.31 m
Length: 16.9 m
Height: 5.12 m
Cabin
Length: 5.6 m
Width: 1.74 m
Height: 1.68 m
Passengers: up to 7
Baggage capacity: 1.6 cubic m