Eclipse 500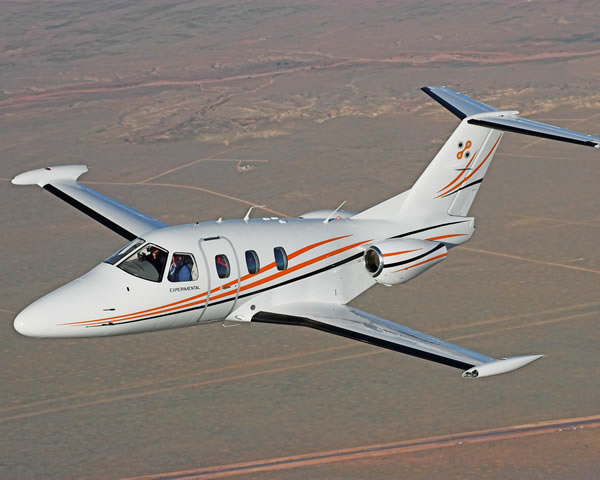 The story of Eclipse 500 is full of drama, which is most likely for the bulk of the revolutionary designed aircraft. First, the design idea of a superlight business jet that would be priced under $1M and assembled (means: delivered) as fast as the minivan is complete at Detroit , has spread the business aviation world. It pushed even the development of a separate sub-branch of air taxi operators plus it released dreams of so many less experienced private pilots to own such a plane. A new toy for customers – great success for investors! Even Bill Gates had his share in the project, which looked lossless.
Eclipse 500 became the first entity of a new class of Very Light Jets (VLJ) when the first unit was delivered in late 2006.
Real hard times appeared when Williams International has failed to build the jet engine of reference design values. Eclipse Aviation had to install Pratt & Whitney PW10610F instead. As a result: several years of delivery delays, base price up to US $2M, less customers and more competitors; investor's final defile, more credits required and… a sudden bankruptcy, forced by U.S. economy recession in 2008.
Production of the Eclipse 500 was halted in mid-2008 due to lack of funding and the company entered Chapter 11 bankruptcy on 25 November 2008
The assets of the company were intended to be sold to Eclipse Jet Aviation International by court order on 23 January 2009, but that company could not complete the sale due to lack of funds and the company was forced into Chapter 7 liquidation on 24 February 2009. In the final Chapter 7 procedure, completed on 20 August 2009, there was only one bidder, a new company formed to acquire the assets, Eclipse Aerospace.
Actually a story of a young, but set as a cult superlight jet without at least a trace of a happy end would be unfair: at present days one can see that Eclipse Aerospace announces introduction of the Total Eclipse® Program in March 2010.
Eclipse 500 as "the world's only certified twin-engine Very Light Jet" is a small six-seat business jet aircraft that was manufactured by Eclipse Aviation. The aircraft is powered by two lightweight Pratt & Whitney Canada PW610F turbofan engines in aft fuselage-mounted nacelles.


Aircraft sales and deliveries started in 2006, and
According to GAMA statistics, there were 260 units of Eclipse 500 aircraft sold and delivered to customers till the Eclipse Aircraft bankruptcy in 2008.
Plane info

Cruise speed: 694 km/h
Total range: 2 404 km
Engines: 2 Pratt & Whitney Canada PW610F


Aircraft dimensions

Wingspan: 11.4 m
Length: 10.1 m
Height: 3.4 m
Cabin
Length: 3.76 m
Width: 1.42 m
Height: 1.27 m
Passengers: up to 4