Embraer Phenom 100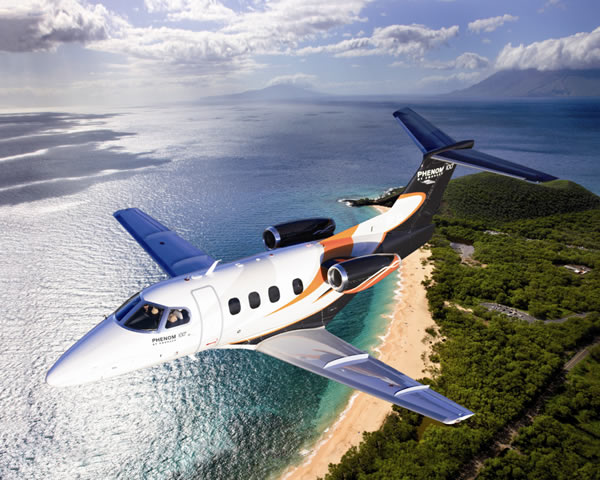 The Phenom 100 is a super light jet developed by Brazilian aircraft manufacturer Embraer. Despite the fact that only 14% of its revenue Embraer gets from executive aviation, their family of balance-priced business jets presently are in a strong demand. For instance, just since first 6 months of 2010 they have built and sold 59 executive jets.

One must note an exceptional interior design of Phenom 100 that has been perfectly performed by BMW Group Designworks (USA), providing the "seamless intelligence" to passengers. Standard deck layout includes 4 passenger seats only, while Embraer states that the aircraft "boasting the largest cabin in its class" and "the aircraft offers unprecedented spaciousness for up to eight occupants". Nobody 's seen Phenom 100 8-seater, so let's definitely consider that it really can carry up to 6-7 passengers while single pilot operated. A side facing seat as well as the belted toilet are optional. The jet has a maximum flying range of 1,178 nautical miles with 4 occupants and NBAA IFR Reserves.

The aircraft is fitted with two rear-mounted Pratt & Whitney Canada PW617-F turbofan engines rated at a take-off thrust of 1,695 lb. to ISA+10. The engines have dual full authority digital engine control (FADEC). An automatic performance reserve (APR) feature boosts engine output to 1,777 lb. in the event of engine failure on take-off.
We can say that luxurious comfort, low operating costs and high performance make Embraer Phenom 100 a serious jet, notwithstanding to its entry – level aircraft category.
According to GAMA statistics, totally there were 99 units of Embraer Phenom 100 sold and delivered to customers in the period 2006-2009.
Plane info

Cruise speed: 704 km/h
Total range: 2 148 km
Engines: 2 x Pratt & Whitney – PW 617F

Aircraft dimensions

Wingspan: 12.3 m
Length: 12.7 m
Height: 4.4 m
Cabin
Length: 3.35 m
Width: 1.55 m
Height: 1.5 m
Passengers: up to 4
Baggage capacity: 1.6 cubic m