Piper PA-47 PiperJet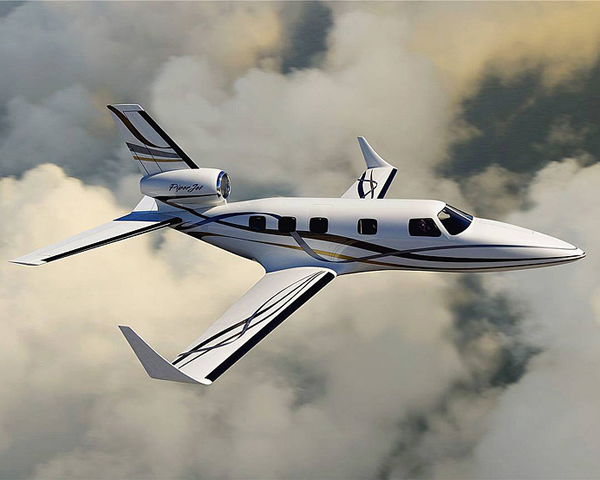 The Piper PA-47 PiperJet is a single-engine superlight jet to be designed and built by Piper Aircraft. The PiperJet is a go program, though with significant out-of-the-schedule delays.

Announced to public in October 2006, a bit later than their twin-engined competitors: Eclipse 500, Cessna Citation Mustang and HondaJet, the 7-seatter aircraft is to be able to maintain a cruise flight at 360 knots (666.7 km/h), with a maximum ceiling as of 35,000 feet (10,668.0 m). Maximum range is expected to be 1,300 nautical miles (2,407.6 km), with a full-fuel payload of 800 pounds. Piper has selected Williams International to supply their FJ44-3AP turbofan engine for the PiperJet.
Similar to comprehensive fighter aircraft, the PiperJet has an engine mounted above the center of gravity equipped with a vectored thrust nozzle, also developed by Williams International, which resulted in reduced weight, nice flight performance and simplified aircraft manufacturing processes.

A selling price as of US $ 2,2M, in 2006 led to the Piper Aircraft announcement that they had got 180 pre-orders as early 2007. Following An entry-into-service date of early 2010 was initially anticipated, later changed to 2011-12.
According to Piper Aircraft's recently appointed executive vice president, Randy Groom, in 2009 there were only 12 people actively working on the single-engine PiperJet program.
Piper plans to reveal the new PiperJet aircraft improvements during the NBAA Convention in October 2010.
Certification and entry into service are now scheduled for mid-2013.
Plane info

Cruise speed: 667 km/h
Total range: 2 407 km
Engines: 1×Williams FJ44-3AP turbofan

Aircraft dimensions

Wingspan: 13.59 m
Length: 10.29 m
Height: 5.01 m
Cabin
Passengers: up to 7