Gulfstream G250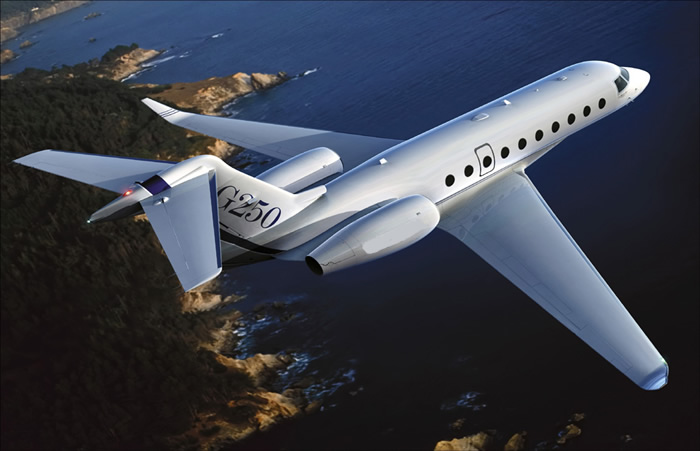 The Gulfstream G200, formerly known as the IAI Galaxy is a twin-engine business jet. It was designed originally by Israel Aircraft Industries and is produced for Gulfstream Aerospace. The Gulfstream G250 is an improved version under development by Gulfstream and Israel Aerospace Industries (IAI).

Since 2005 Gulfstream has been working on a follow-up aircraft, the G250, which was launched in 2008, with major improvements, like new glass cockpit and engines, bigger wing, heated leading edges, and other refinements.

The G250 is a derivative of the G200, with many improvements, among them increased cabin length, new engine HTF7250G, new cruciform tail, wing bleed anti-ice, cabin with 4 more windows and access from it to the baggage compartment. It will compete against the Hawker 4000, Bombardier Challenger 300 and the planned Embraer Legacy 500. The fuselage, empenage and landing gear will be manufactured by IAI, the wing by Spirit AeroSystems, while the final assembly will be performed by Gulfstream.

The first G250 has its maiden flight on December 11, 2009 from Tel Aviv, Israel. The second G250 first flew on March 25, 2010. With this flight, the two G250s have completed over 72 hours of flight testing. The G250 is planned to receive type certification in 2011, then enter service shortly afterwards.
Plane info
Cruise speed: 850 km/h
Total range: 6 297 km
Engines: 2 x Pratt&Whitney PW306A

Aircraft dimensions

Wingspan: 17.7 m
Length: 18.97 m
Height: 6.53 m
Cabin
Length: 7.47 m
Width: 2.18 m
Height: 1.92 m
Passengers: up to 11
Baggage capacity: 4.2 cubic m