Socata TBM 850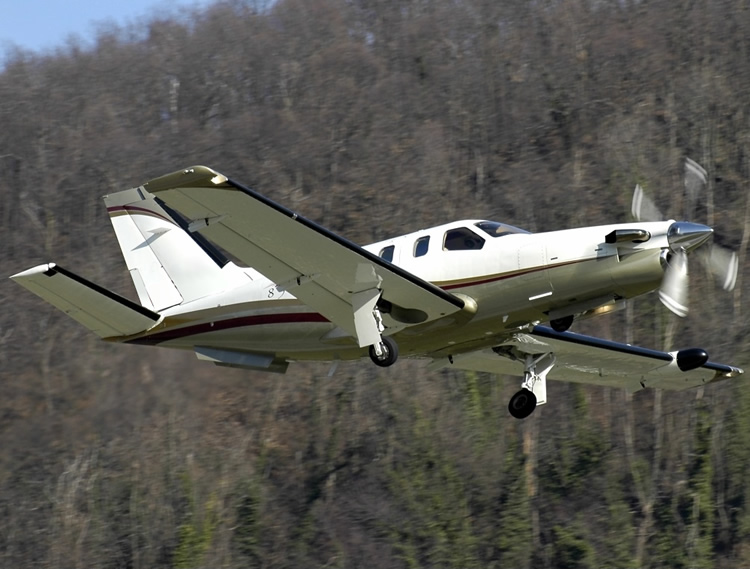 The SOCATA TBM 700 and TBM 850 are high performance single engine turboprop light business and utility aircraft manufactured by SOCATA. The TBM 700 was offered until 2006, when the TBM 850 was introduced.

The TBM 700 is a single turboprop engined, six to seven seat low-wing monoplane of aluminium and steel construction. The TBM 700 first flew on 14 July 1988 and French certification followed in 1990. The TBM 700 was designed together with the Mooney Airplane Company, but Mooney withdrew from the project shortly after certification. In the designation TBM, "TB" stands for Tarbes, the city in France in which Socata is located, the "M" stands for Mooney (the initial was kept in the model designation even though Mooney was never involved in the production of the airplane). The TBM 700 also comes in a cargo variant. The TBM 700 uses a Pratt & Whitney Canada PT6A-64 engine delivering 700 shp (522 kW).

The TBM 850 is the production name for the TBM 700N, an improved version with the more powerful Pratt & Whitney PT6A-66D engine flat rated at 850 shp (634 kW). The TBM 850 is limited to 700 shp (522 kW) for takeoff and landing, but in cruise flight the engine power can be increased to 850 shp (634 kW). This extra power gives it a higher cruising speed than the TBM 700 models, especially at high altitudes (due to the flat-rating). The outside appearance of the TBM 850 has remained the same as that of the TBM 700. The TBM 850 has a typical range of 1520 nm.

As of the summer of 2009, over 520 TBMs have been produced. The manufacturer expects to produce 450 units in the 2007-2016 time period.

Beginning with the 2008 model, the TBM 850 is equipped with the Garmin G1000 integrated flight deck as standard equipment.
Plane info
Cruise speed: 592 km/h
Total range: 2 815 km
Engines: 1× Pratt & Whitney Canada PT6A-66D turboprop

Aircraft dimensions

Wingspan: 12.68 m
Length: 10.65 m
Height: 4.36 m
Cabin
Passengers: up to 6