The wide-body aircraft sales and leasing market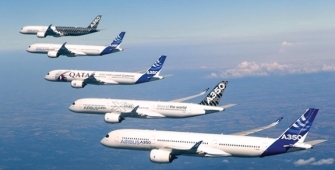 Air Partner's Remarketing division is currently seeing high levels of narrow-body activity in the aircraft sales and leasing market, but the wide-body sector is very different.
Tony Whitty, Managing Director at Air Partner, comments on what the team is currently seeing in the market, with further details on specific wide-body models below.
"Over the last few years we have remarketed several different types of wide-body aircraft, including B747s, A340s, A330s, A350s and B777s."
"Currently, the market is still waiting for the first used A380 aircraft transaction – which might be the transaction involving Portuguese charter airline, Hi Fly. The transition of used wide-bodies in passenger configuration continues to be very slow; unless the type can be converted to cargo, operational lives are continuing to shorten."
"The price of fuel clearly is a significant factor as many major scheduled airlines have kept their older wide- bodies far longer than originally planned. Therefore, to a certain extent, this has meant the market is not as saturated as it might have been."
"What the used market really needs is some of the major scheduled carriers to acquire significant fleets of wide-bodies. Those with excellent maintenance and technical capability are best placed to do this: whether this happens or not will depend a lot on how aggressive Airbus and Boeing are on the sale of their new wide-bodies, plus other factors such as the price of fuel."
WIDE-BODY MARKET APPRAISAL :
B747-400: Air Partner Rating D
Almost no acquisitions for ongoing operations in the last 3-5 years
Parting out purchasing is purely for engine interest
Some major operators like BA and Virgin retaining aircraft due to low fuel price and zero capital cost on balance sheet; some are cannibalising existing aircraft to keep fleet flying longer
B747 Freighters: Air Partner Rating C
No conversions for several years but the nose loader will have a key role in the cargo market for many years to come
Converted aircraft likely to be retired when heavy checks are due
Lease rates and values have fallen significantly over the last 5 years but factory built freighters can be placed if expectations are realistic
B767-300ER: Air Partner Rating B
Still popular with scheduled airlines such as Delta, United and America
Low capital cost attracts new long-haul entrants, such as WestJet and Air Canada Rouge, plus the ACMI carriers, such as euroAtlantic and Icelandair Loftleidir
Freight conversion booming due to Amazon's entry into the market via Atlas and ATSG
Traditional cargo airlines, such as Fedex, UPS and ATSG, still using in large numbers but few suitable aircraft now available to convert so what type is next?
B777: Air Partner Rating C
Became the B747 replacement and the wide-body of choice for the world's major airlines
Type proving hard to place in the used market with only around 10 airlines ever taking used 777s
No cargo conversion option severely restricts opportunities when remarketing, but positive signs from Bedek that they will launch the B777-300ER conversion programme soon
Prices approaching part out value and therefore great value for airlines that can use an aircraft of this size
A330: Air Partner Rating B
The B767 replacement
Flexible enough to be used for medium and long-haul routes, scheduled or charter
DHL starting to convert used -300s – longer operational life guaranteed
Traction in the used market already gained, with over 120 airlines now operating the type with many having taken used aircraft
A340: Air Partner Rating C (for -300s) D (for -500s and -600s)
Like the 747, some operators (Virgin, PAL) have kept A340s longer than planned due to low fuel and capital costs; aided by a good supply of green time engines from dismantled A340-300s from the likes of AerFin
Low capital cost of a high capacity, long range aircraft makes it an ideal ACMI charter aircraft, as used by Hi Fly and Plus Ultra
-500s and -600s extremely hard to place at any price
By Juergen T Steinmetz
Back to other news