New helicopter EC155B1 for sale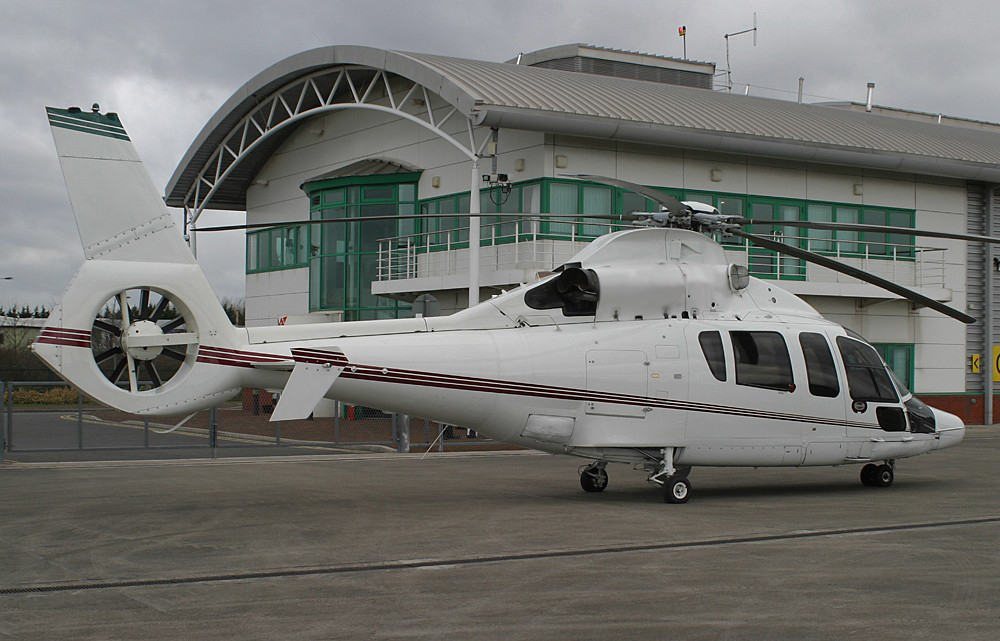 Year:
2015
Passengers:
TTAF:
60
Location:
Indochina Peninsula
S/N:
TBA
Price:
13,5M$
The Eurocopter EC155 (now Airbus Helicopters H155) is a long-range medium-lift passenger transport helicopter developed by Eurocopter from its Dauphin family for civil aviation use. It is a twin-engined aircraft and can carry up to 13 passengers along with 1 or 2 crew, depending on customer configuration. The helicopter is marketed for passenger transport, offshore support, VIP corporate transport and casualty transport duties. In 2015, the EC155 was formally renamed to the H155, in line with Eurocopter's corporate rebranding as Airbus Helicopters. Passenger interphone linked to DACS for active noise cancelling headsets 2 x NAT AA-82. Six (6) plus two (2) Active noise canceling headsets Bose X. Two additional ICS jacks in cockpit for Bose Aviation X headsets (headset excluded). Weather radar RDR 2000 Honeywell (displayed on ND and 10.4" screen – not included) Traffic Advisory System Avidyne TAS 620 (displayed on 3" screen and on mission display 10.4" – not included). Flight Management System Universal UNS-1LW. Moving map EUROAVIONICS EURONAV V linked to GPS (displayed on 10.4" display – not included). Mission display 10.4" – Touch Screen
Avionics/Radios
VHF-AM Collins VHF-4000 n°1 & n°2 (including 8.33 kHz channel spacing). Digital Audio Communication System NAT with 2 control panels ? Two (2) David Clark H10-13H headset. Transponder COLLINS TDR 94 D with flight ident function n°1. DME Collins DME – 4000 (Displayed on ND). VOR/ILS/MKR – Collins NAV-4500 n°1 (displayed on ND). VOR/ILS/MKR/ADF – Collins NAV-4000 n°2 (displayed on ND). Solid State Cockpit Voice & Flight Data Recorder – SSCVDR (2 hours CVR and 10 hours FDR rec) with MFDAU++. UMS (compliment of SSCVFDR) (Usage functions) – Ground station excluded – with MFDAU++ IRIDIUM Skyconnect Satcom (voice and A/C Position) control in cockpit and cabin.
General characteristics
Crew: 1 or 2 (pilots)
Capacity: 13 passengers or 2,301 kg (5,073 lb) payload
Length: 14.3 m (46 ft 11 in)
Height: 4.35 m (14 ft 3 in)
Empty weight: 2,618 kg (5,772 lb)
Gross weight: 4,950 kg (10,913 lb)
Max takeoff weight: 4,920 kg (10,847 lb)
Powerplant: 2 × Turbomeca Arriel 2C2 turboshaft engines, Take-off Power, 697 kW (935 hp) each
Main rotor diameter: 12.6 m (41 ft 4 in)
Main rotor area: 124.7 m2 (1,342 sq ft)
Performance
Never exceed speed: 324 km/h (201 mph; 175 kn)
Range: 857 km (533 mi; 463 nmi)
Ferry range: 985 km (612 mi; 532 nmi)
Service ceiling: 4,572 m (15,000 ft)
Rate of climb: 8.9 m/s (1,750 ft/min)